The Tropicana La Plage beach-restaurant reflects the spirit of LA.TARTE.TROPÉZIENNE where you find a friendly, tasteful, family atmosphere… pure and simple !
The Tropicana La Plage restaurant, decorated in white and red, welcomes you to its large shady terrace where every table is sea-facing.
Our talented head chef, Eric Santalucia, originally from Toulouse and former student of the Chef Alain Ducasse Cooking School for around ten years, invites you to experience an explosion of regional flavours reinvented in his own style.
His Mediterranean recipes, using regional produce, selected from well-known producers, such as Yann Menard, market gardener from Cogolin, create a fabulous menu with southern tones: Squid Provençale-style, Stuffed Vegetables, Artichokes à la Barigoule, Marinated Grilled Squid, etc. And let's not forget the traditional fish of the day.
When it comes to dessert, our specials are also extremely regional: LA TARTE TROPÉZIENNE in all shapes and sizes: Baby Trop' in various flavours, Tarte Tropézienne, Apricot Pastry, and even Chocolate-Tea "Crousti-Fondant" as well some great classics of French patisserie, such as Lemon-Meringue Tart, etc.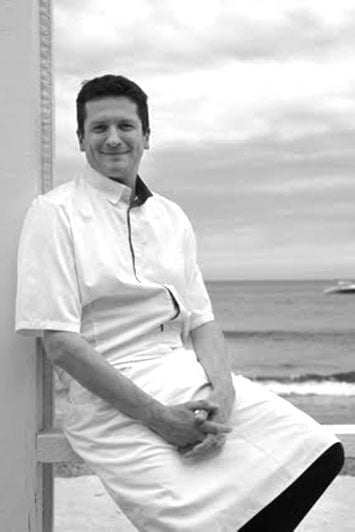 Restaurant
– 04 94 79 83 96 –
Raw vegetables with anchovy cream
17€
Mediterranée selection : burrata cheese, artichokes, tomatoes, capers, olives, rock octopus, chickpea sticks
29€
Belly tuna from Jose Pena's (115 gr)
16€
Sardines in oil from Jose Pena's (125 gr)
15€
Romaine lettuce, chicken, parmesan cheese & herbs sauce
19€
Mixed salads, marinated artichokes and truffled pecorino cheese
21€
Tomatoes & burrata cheese
21€
Meat stuffed vegetables "provence style"
22€
Tuna tataki, pickled vegetables and sea weed salad
22€
Coquillette pasta with ham & emmental cheese
16€
Artisanal pasta with tomatoes, capres, black olives and tuna
22€
Artisanal pasta with tomato, burrata cheese & basil
21€
Veal escalope coated with breadcrumbs
26€
Nature beef tartare, fresh fries and salads
26€
Grilles Irish Angus beef sirloin (300 gr)
33€
Tropicana's burger, fresh fries and salads
26€
Marinated then grilled squid, virgin olive oil dressing
26€
Grilled tuna steack, citrus fruit & pepper sauce
28€
Wild fishes from today's catch cooked in the oven (500 gr)
53€
Paella (min 2 people)
29€ / pers
Home made french fries and mixed salad
Pasta with butter or olive oil
Cheeses selection with our tomato jam
16€
The real Tarte Tropézienne
10€
Verbina ice cream parfait with apricots
10€
Apricots tart with thyme ice cream
10€
Chocolate cake and vanilla ice cream
10€
Yoghurt ice cream, raspberries juice, figs and whipped cream
13€
Chocolate crunch fondant, tonka bean
13€
Fresh fruits salad with herbs infusion sirop
13€
Barbarac ice cream verrines
7 €
Barbarac's ice cream & sherbets *
3,5€ the scoop
*Vanilla – Coffee – Pistachio – Malaga – Lemon – Strawberry – Yogurt – Thyme – Passion fruit
Nos suggestions du jour vous sont présentées sur nos ardoises.
Prix Nets – Service Compris Master card & Visa Accepted
 50cl :   Bouteille :   Magnum :
DOMAINE DE LA GISCLE – MOULIN DE L'ISLE
AOC CôTES DE PROVENCE
ROLLE

32€
DOMAINE DE MARIE N°1
IGP LUBERON
VIOGNIER / MUSCAT PETIT GRAIN / GEWURSTRAMINER

36€
MINUTY PRESTIGE
AOP CôTES DE PROVENCE
SEMILLON/ROLLE

29€  

43€ 

86€
MIRAVAL
COTEAUX VAROIS
GRENACHE BLANC/ROLLE

44€
 50cl :   Bouteille :   Magnum :
PASCAL JOLIVET – SANCERRE

53€
PROVENCE
GRENACHE /MOURVèDRE/ CINSAULT/ SYRAH/ TIBOUREN/SEMILLON
 50cl :   Bouteille :   Magnum :
DOMAINE DE LA MADRAGUE
CUVéE LA TARTE TROPEZIENNE – AOC CôTES DE PROVENCE

33€
DOMAINE DE LA MADRAGUE
CUVéE CLAIRE – AOC CôTES DE PROVENCE

25€  

34€ 

68€
DOMAINE DE MARIE N°1
IGP Lubéron

36€
Château BARBEYROLLES – Pétale de Rose
Aoc Côtes de Provence

53€   

106€
MINUTY PRESTIGE
AOP CôTES DE PROVENCE

29€

 43€

86€ 

172€
DOMAINE DE LA GISCLE – MOULIN DE L'ISLE
AOC CôTES DE PROVENCE

32€
CHâTEAU PAMPELONNE
AOC CôTES DE PROVENCE

40€
DOMAINE DE LA ROUILLèRE – Grande Réserve
Aoc Côtes de Provence

43€
CHATEAU MINUTY – Rosé OR/h4>
Aop Côtes de Provence

56€

 112€ 

220€
CHATEAU MINUTY – 281
VIN D'EXCEPTION
Aop Côtes de Provence

 120€
MIRAVAL
Aoc Côtes de Provence

43€  

86€
PROVENCE
GRENACHE/SYRAH/CARIGNAN/Mourvèdre/CABERNET SAUVIGNON
 50cl :   Bouteille :   Magnum :
Château PAMPELONNE
AOC Côtes de Provence – 2010

29€  

42€
Château BARBEYROLLES – NOIR & OR
AOC Côtes de Provence

56€
DOMAINE DE MARIE N°1
IGP LUBERON

41€
Bouteille :   Magnum :
LOUIS ROEDERER Brut Premier

85€  

170€
CRISTAL ROEDERER 2004

280€
LOUIS ROEDERER Brut Rosé Millésime 2011

120€  

240€
Coupe 12CL :   Piscine 16CL :
LOUIS ROEDERER Brut Premier

13€  

16€
LOUIS ROEDERER Brut Rosé Millésime 2011

16€  

19€
Prix Nets – Service Compris Master card & Visa Accepted L'abus d'alcool est dangereux à consommer avec modération – The alcohol abuse is dangerous to consume in moderation